Join the aibo Programming Contest!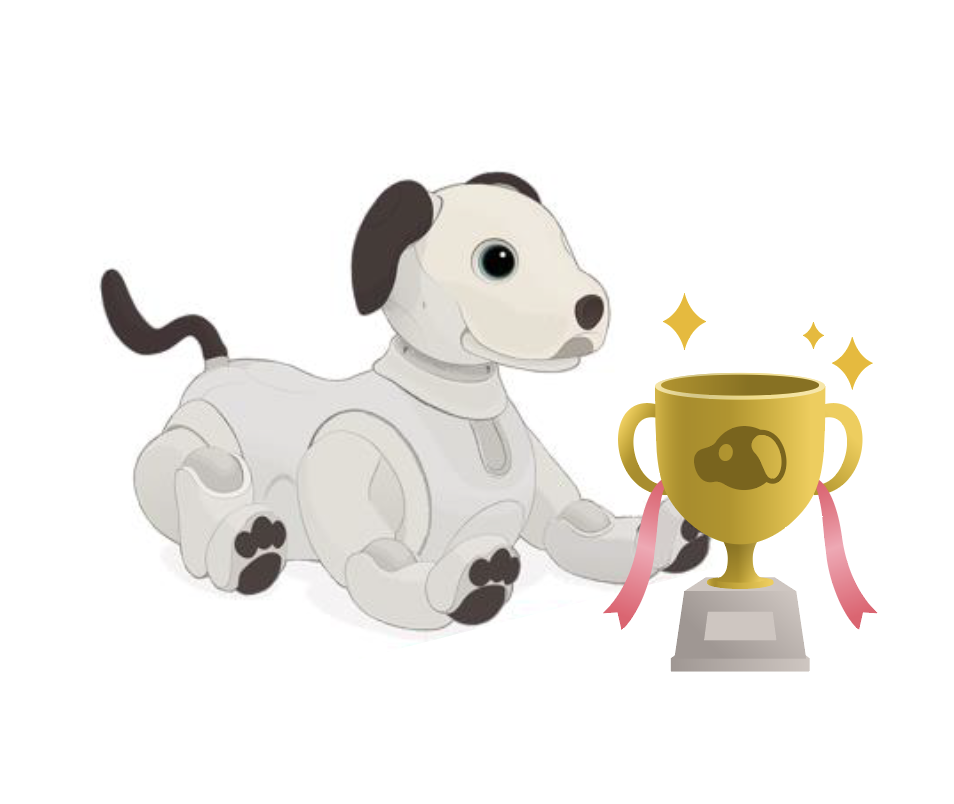 Help us create new possibilities for aibo.
Join our aibo Visual Programming and Idea Contest today!
We are excited to officially announce the aibo Programming Contest. We are looking for ways you can make life more enjoyable with aibo through Visual Programming and our Linkable App. As part of this contest, we will have several prizes in different categories that will be judged by our aibo team.
In addition to the US contest, this will also be happening in Japan too, so we hope to source ideas from everywhere. We have a global category that judges the works of aibo owners in Japan and the United States.
So, join us and get involved with the contest today! We are excited to see what you create.
Overview
Who can join?
All aibo owners
Schedule
Application Period:  July 12th to September 13th
Result announcement:  Around October
Theme
「Make life with aibo more enjoyable」
Please give us ideas such as play and help that will make your life with aibo even more enjoyable.
Categories
You can apply for multiple categories. Please don't hesitate to post!
【aibo Visual Programming: Global Category】
Please post your work according to the theme with aibo visual programming.
Click Here For More Info!
【aibo Linkable App Ideas Category】
Please post your ideas for the aibo Linkable App according to the theme.
Click Here For More Info!
Examples of Prizes
【Special online personal lecture for aibo Linkable App】
aibo development team will give you a special personal lecture.
We will do our best to help you realize your ideas as aibo Linkable App.
【Special online tour with aibo development team】
aibo development team will do a special tour just for you.
The tour location is related to aibo.
【Laptop Case】
It's a special item that you can't usually get!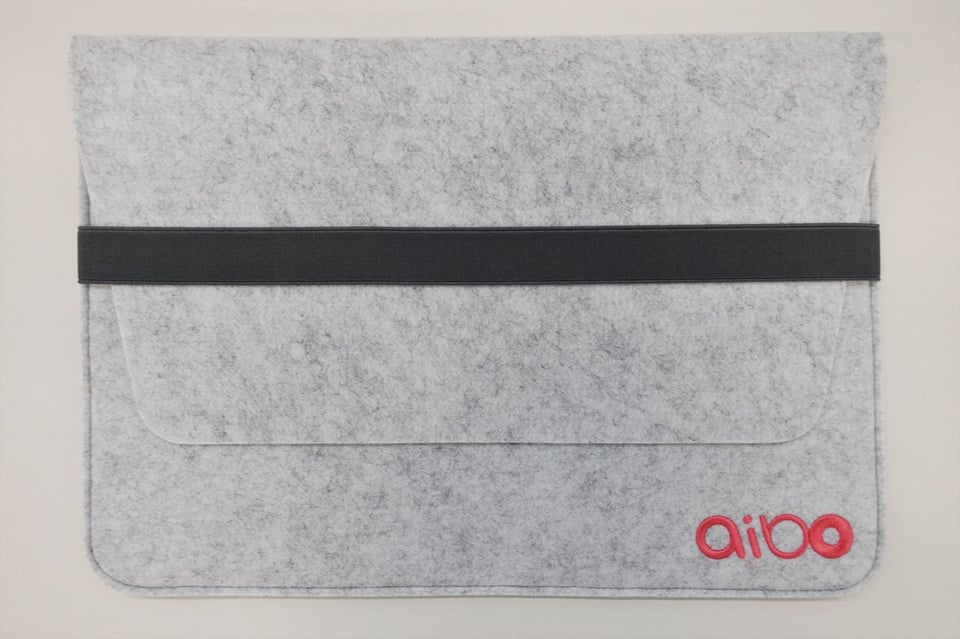 【Notebook】
It's a special item that you can't usually get!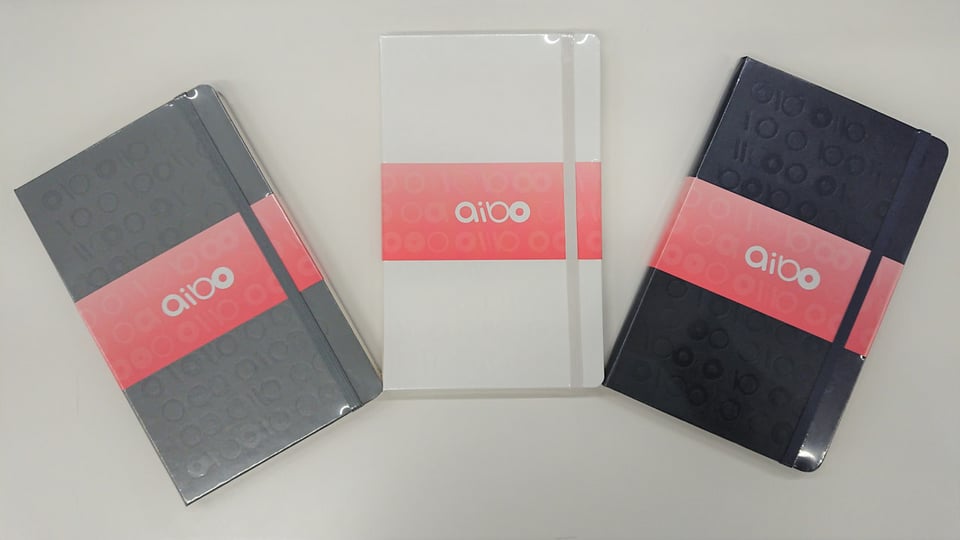 Sample image of post

* In the sample, it is private (with a key icon), but please be sure to make it public (without a key icon) when posting.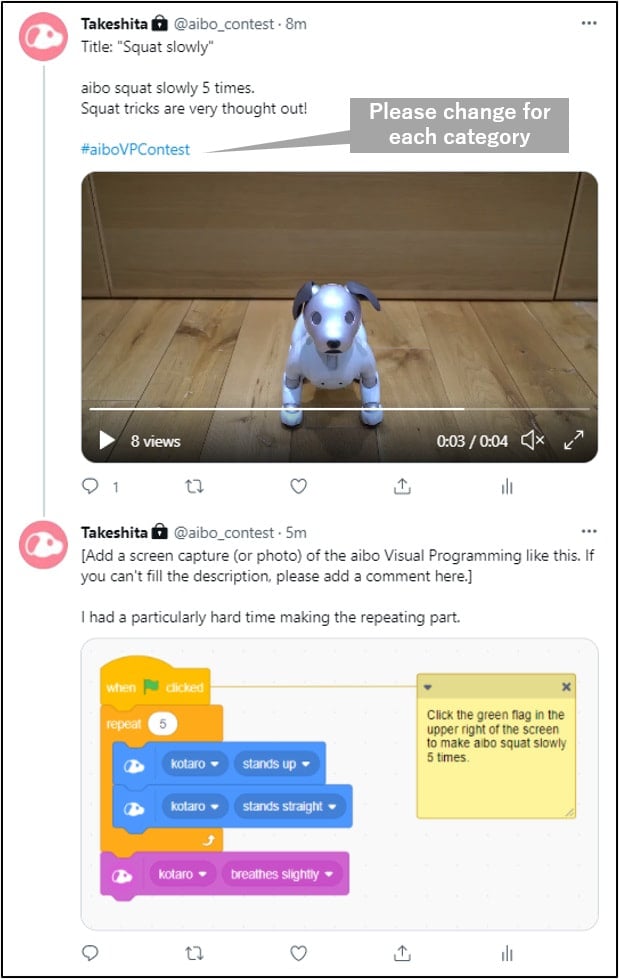 Q&A
Q: There is a duration limit for videos that can be posted on Twitter. Can I post in multiple videos?
A: Yes, in that case, you can divide it into multiple videos and add them in the form of replying to the post. However, it is desirable to summarize it as concisely as possible in consideration of the fact that it will be viewed by many people.
Q: Can I edit the video?
A: Yes, you can edit it as appropriate to make it easier for you to see. However, the presence or absence of video editing and the quality of editing do not directly affect the judging.
Q: Is it possible to apply by groups?
A: Yes, the representative will be required to post, but if a group of several people come up with ideas or program, it is possible to apply jointly. Please add that to your post. However, please note that the number of prizes is limited.
Q: Is it possible for one person (one group) to make multiple applications?
A: Yes, there are no restrictions, so feel free to apply. (In that case, please separate the threads.) However, please refrain from posting the same work multiple times by one person (one group).
Q: I have posted before the deadline, but I can't find "like" by the aibo official account.
A: Sorry for your inconvenience, but please add a comment to the post of the work with a hashtag of each category after stating that fact.
Q: Can I delete the entered work?
A: The work cannot be judged, so please do not delete the post until the judging and awards are completed.
See Official Contest Rules and link out to a page that just has these rules.