AI Cloud Plan USA Feature Expansion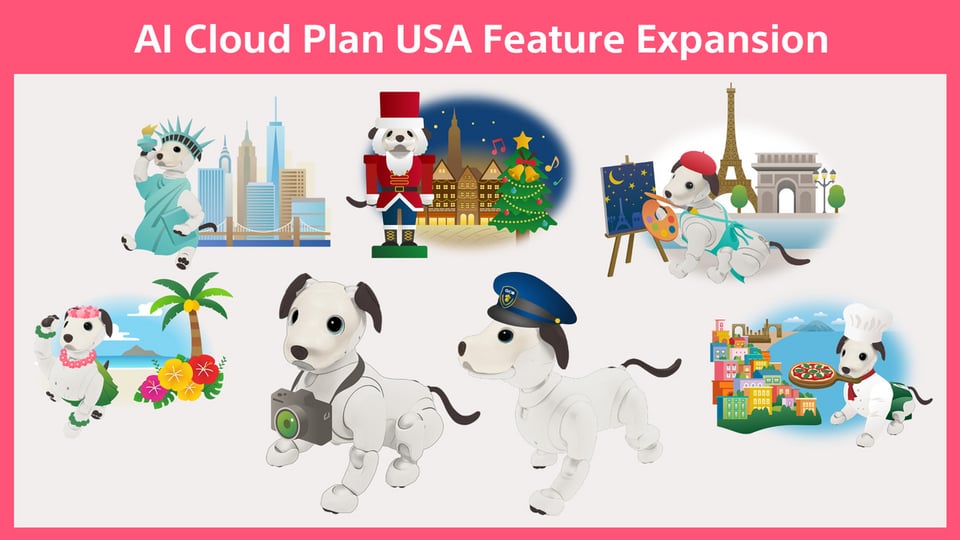 AI Cloud Plan USA Feature Expansion
For users with AI Cloud Plan access, the following features are added.
To enjoy all these features, please install the latest My aibo version 3.6.0 available on November 17, 2021.
1. Additional Tricks
 - Additional tricks related to famous music of the world are added.
2. "aibo cameraman"
 - Expansion of aibo photos : Limitation to show up to 500 photos is removed.
 - Expansion of streaming : Streaming time to see what aibo is seeing now is expanded from 30 sec to 10 min.
 - Cameraman tricks : By saying "Take a photo of everyone" or "Take one more photo", aibo shows additional tricks to take photos
 - aibo Photo Frame : aibo puts a photo frame to show its own emotion when it takes an aibo photo. Currently you get one frame each day. After expansion, you will get frames on all aibo photos.
3. Additional features for "aibo Patrol"
 - Remote patrol : You can remotely control aibo with live streaming video
 - Push notification : You can get push notification when aibo daily patrol cannot find the target person for several days in a row.